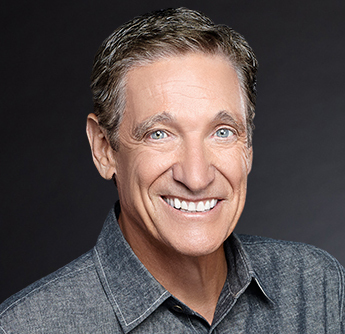 Maury Povich
Host-Executive Producer
Maury Povich is the only television personality to have had three consecutive successful syndicated shows, beginning with the groundbreaking Fox tabloid news magazine A Current Affair (1986-1990), Paramount's The Maury Povich Show (1991-1998), and NBCUniversal's Maury (1998-present). Maury is the number one talk show among women, adults and men, ages 18-34-years-old.
Povich began his career in broadcast journalism in radio 50 years ago as a street reporter in his native Washington, D.C. He quickly shifted to covering news, talk and sports shows on WTTG-TV, a local Metromedia station.
During the tumultuous 1960's and '70's, he hosted a daily two-hour live news talk show titled Panorama, covering events such as the aftermath of the assassination of JFK, the riots in Washington following the assassination of Martin Luther King, Jr., anti-war demonstrations during the Vietnam War and the historic events of Watergate. For those working on Capitol Hill and in the White House during that time, Panorama was a television staple, covering all major news events long before the advent of 24-hour cable news networks.
After 15 years, Povich ended his run with Panorama and left D.C. Over the next seven years, he anchored newscasts for ABC, CBS and NBC owned-and-operated television stations in Chicago, Los Angeles, San Francisco and Philadelphia.
While working at the CBS affiliate in Los Angeles, Povich co-anchored the news with his then wife-to-be Connie Chung, whom he married in 1984.
He returned to D.C.'s WTTG-TV in 1983 to again host Panorama, as well as the station's 10 o'clock news but in 1985, the Metromedia group was sold to Rupert Murdoch, becoming Fox Television.
Murdoch brought Povich to New York to help create and host the news magazine A Current Affair, which launched in 1986, becoming an instant hit, and forever changing the news gathering habits of television news programs.
Povich left A Current Affair in 1991 to host his own nationally syndicated talk show, Paramount's The Maury Povich Show; when the show transitioned from Paramount to what is now NBCUniversal in 1998, the title was shortened to the more informal Maury.
He served two consecutive terms as president of the New York Chapter of the National Television Academy (NTA)–previous presidents of the NTA New York Chapter include such luminaries as Ed Sullivan and Walter Cronkite.
In March 2006, Povich's wife Connie Chung presented her husband with the prestigious Governor's Award from the New York Chapter of the National Academy of Television Arts & Sciences (NATAS), for his distinguished service to the Academy and his exceptional contributions to the television industry spanning his 40 year career. The award is given to individuals, companies or organizations that have made a substantial impact and demonstrated the extraordinary use of television.
In 2011, he made a $1 million gift to his alma mater, University of Pennsylvania, specifically to the school's Kelly Writers House, to establish the Povich Fund for Journalism Programs. The gift supports seminars, workshops, presentations, talks and symposia in journalistic nonfiction writing. The Povich Fund is the second gift he has made in support of journalism at the university–in 2006, he established the Povich Writer-in-Residence, which allowed the school to add advanced journalism classes to their writing curriculum.
He and Chung launched a newspaper in 2007 called the Flathead-Beacon, in Flathead Valley, Montana, where they own a home. The publication is available online daily and 50,000 copies are printed and distributed weekly.
Journalism runs in Povich's family: his father was legendary Washington Post sports columnist Shirley Povich who worked at the paper for 75 years. His sister Lynn was a senior editor at Newsweek and also served as editor-in-chief of Working Woman magazine for five years before joining MSNBC. His brother David is a senior law partner at Washington law firm Williams and Connolly.
In his spare time Povich is an avid golfer with a 2.4 handicap and he competes frequently in U.S. Senior amateur golf tournaments.
Povich has been married to broadcast journalist Connie Chung for 34 years and resides in Manhattan with their 23-year-old son, Matthew. He also has two grown daughters from an earlier marriage and is the grandfather of four children.